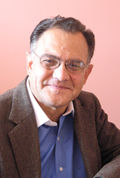 Farid Younos
Longtime Cal State East Bay faculty member Farid Younos was interviewed by Tampa Tribune reporter Howard Altman for the article, "Equality will civilize Afghanistan." Younos is an expert on Afghanistan and on the Middle East. He lecturers in the Cal State East Bay departments of human development and women's studies.
Well-known as a supporter of rights for Afghan women, Younos was in Tampa to talk at U.S. Central Command and deliver a lecture at the University of South Florida. His visit was sponsored by Centcom's Afghanistan-Pakistan Center of Excellence, which provides all-source analysis to policy and decision makers at the strategic and operational levels.
Younos said that if there is to be any security in Afghanistan, the entire population — including women — will have to be educated and trained. And just as men and women must be equals, so, too, must Sunni and Shia.
"There should be equality," he said. "We should declare Sunni and Shia equal. No Sunnis in the majority. No Shia should be the majority. As I said on my show many times, there is one 'I' in Sunni, one 'I' in Shia. There should be no discrimination."
Otherwise, all the sacrifices made — the lives of more than 2,000 U.S. troops and more than half a trillion dollars — and any gains won, will be for naught.
KL