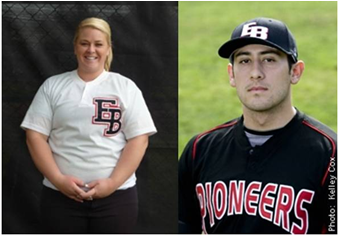 Sara Holdridge and David Castillo, CSUEB ball players.
September 27, 2012 5:00am
The first annual Sherratt Scholarship was awarded to senior baseball player David Castillo and senior softball player Sara Holdridge.
Each year, the Pioneer coaches will select one male and one female student-athlete to receive a scholarship from the Richard and Susan Sherratt Scholarship Endowment, which the couple started in 2009. A 1970 graduate of Cal State East Bay, Sherratt was a member of the baseball team for two seasons. He was 16-6 with a 2.80 ERA as a pitcher for the Pioneers, earning All-Far West Conference honors in 1969. In 2002, he was inducted into the Cal State East Bay Athletics Hall of Fame, and last year he was awarded an honorary doctorate by the university for his contributions as a business and community leader.
"I'm glad to be able to help David and Sara toward the pursuit of their academic goals," said Sherratt. "Obviously, I'm very proud of the great success they've had on the baseball and softball fields and wish them well in the coming season and in pursuit of their goals in life. I'm very pleased to be able to help Pioneer student-athletes in this small way."