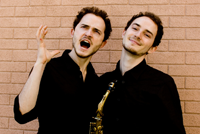 Le Boeuf Brothers will perform on campus Oct. 1.
September 19, 2012 10:00am
A new, free jazz series blending performance and Q&A's will debut at Cal State East Bay this fall.
The Department of Music will launch the six Monday programs Oct. 1 with the appearance of Le Boeuf Brothers. Chris Robinson presenting a "Pat Metheny Tribute" is set for Nov. 5, the Wally Schnalle Band is set for Dec. 3, Group Sax will perform Feb. 4, Women in Jazz Band, March 4; and Erik Jekabson String-tet will complete the series May 13. All will begin at 7 p.m. in the Music Building, room 1039, at 25800 Carlos Bee Blvd., Hayward, 94542.
Daniel Zinn, interim director of jazz studies and jazz ensembles, says tickets to this type of program should be in the $15-20 range; here they will be free.
At all but the first program, Zinn will add drama to the program by both accompanying the group on stage, and facilitating the Q&A from inside the group, as well as from the audience.
Details are posted. Campus parking is $2 per hour at meters or in lots. 
CSUEB welcomes persons with disabilities and will provide reasonable accommodation upon request. Please notify event sponsor in advance at 510-885-3135 if accommodation is needed.
DD