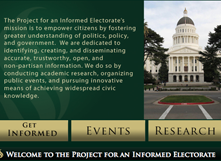 'Project for an Informed Electorate' prepares voters for election.
September 17, 2012 4:00pm
Help is here for navigating the complex November Presidential election thanks to a new website developed by a team of professionals, including Elizabeth Bergman, Cal State East Bay assistant professor of political science.
"Project for an Informed Electorate," or PIE, based out of CSU, Sacramento, is intended to educate and inform people in a user-friendly manner on candidates and issues in the November election, and beyond.
The CSUS site covers fact checks, ad watches, and studies on political misinformation; suggestions on where to find non-biased election news; insight into the issues, and more. Soon to come will be a simple, bullet point description of the major political differences between President Barack Obama and Republican Candidate Mitt Romney.
Bergman, who focuses her research on political behavior and issues of voting and election administration, said, "Much work needs to be done to understand the myriad influences on political behavior in the Bay Area, NorCal, the state and nation. PIE is a long overdue step in that direction."
Kimberly Love Nalder, associate professor of government at CSUS and director of PIE, said the young site is already averaging around 75 hits a day, with numbers growing as word spreads. 
Kim Geron, CSUEB professor and chair of political science, credits the site with providing valuable information in a non-partisan fashion.
Bergman, Nalder and two others at CSUS will continue the site and their research beyond the upcoming election. Bergman will be analyzing such things as who votes, how they vote, why they vote, when they vote, where they vote, what they vote, and influences by such things as campaigns, candidates, election officials, and the election processes. 
Bergman also created Voter Guide Now, an app providing information on the upcoming elections through iPads, iPhones, or Android devices. 
DD