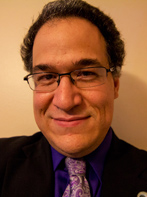 Head shot of Associate Professor Hernandez.
September 26, 2012 9:00am
Rafael Hernandez, who likes to identify himself as a composer/teacher/nerd, has been named interim associate dean of the College of Letters, Arts, and Social Sciences. He joined the University in 2005, and was chair of the Music Department and director of the Multimedia Graduate Program for the past three years.
A native of Bethesda, MD who grew up in Virginia Beach, VA, Hernandez earned a Bachelor of Music from Virginia Commonwealth University in 1998, a Master of Music from the University of Texas at Austin in 2001, and a Doctor of Music in music composition in 2005. CSUEB awarded him tenure in 2009 and promoted him to associate professor in 2010. 
Kathleen Rountree, CLASS dean, said, "I am delighted to welcome Dr. Hernandez to this new role. His extensive experience, deep commitment to students and faculty, and his sharp analytical skills are invaluable assets that will benefit every department and every program."
As interim associate dean, Hernandez's main duties will be enrollment management, faculty affairs, and self-support programs for the college.
Recent campus activities have included chairing the Chief Financial Officer Search Committee; serving on the Instructional Technology Advisory Committee, serving on the Data Warehouse Steering Committee, and chairing the CLASS Curriculum committee for multiple years.
Hernandez's areas of research are music educational software development (his app, "Simple Solfège," is at itunes, games as music teaching tools (his card game, "IV-V-I: The Harmony Card Game," is at IV-V-I) and, of course, he writes music.
DD