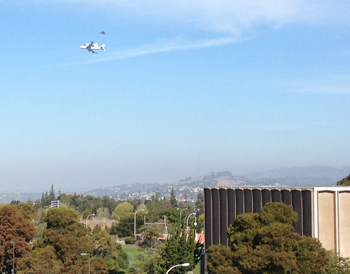 Space Shuttle Endeavour over Pioneer Gymnasium
September 21, 2012 12:00pm
Gliding over the Cal State East Bay Hayward campus at 10:09 a.m. Friday, the Shuttle Endeavour drew an enthusiastic crowd of onlookers to the balcony surrounding Warren Hall. 
Arriving from the east, the Endeavour — riding piggyback on a 747 and trailed by a fighter jet — inspired a frenzy of photo-snapping as students, staff members, faculty and Hayward area neighbors clamored to capture the historic last flight of the shuttle with conventional cameras perched atop tripods, handheld cell phone cameras and electronic notepads.
The low-level flyover took place as part of a Northern California tour en route to the shuttle's final destination: its permanent home at the California Science Center, a museum in Los Angeles' Exposition Park.
Since its first flight in 1992, Endeavour completed 25 missions, spent 299 days in orbit, and orbited Earth 4,671 times while traveling 122,883,151 miles, according to NASA.
See a gallery of images taken from the balcony of Warren Hall.
MB