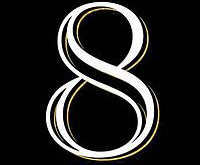 white 8 with black background
"8," also known as "8 the Play," a verbatim reading from the legal argument and witness testimony that led to California's overturn of Proposition 8 – eliminating same-sex marriage – will be presented on the Cal State East Bay Hayward campus Oct. 28 by the Performing as Females club.
Student Lauren Lola is producer. Ann Fajilan, associate professor of theatre and dance, will direct, and Sandy Stier and Kris Perry, plaintiffs in the 2009 trial, and Eric Kupers, associate professor of theatre and dance, will be part of a follow-up, talk-back.
The documentary, chronicling the Federal District Court trial of Perry v. Schwarzenegger and ensuing ballot measure, was created by Dustin Lance Black, and premiered in New York City in 2011, and was broadcast on YouTube.
Lola said, "I honestly don't see why people who are in love with each other, regardless of what gender they are, can't get married.  I don't even see how this became a political issue in the first place."
Fajilan said, "My hope is to empower our students to present public forums that can change our community consciousness. Whenever any of our students feel they can right a wrong, or at least bring clarity to our many, many social justice causes, I want to support their courageous efforts to make positive changes."
Tickets for the 2 p.m. performance in the University Theatre will be $4 for CSUEB students, $6 for youth, seniors, and those with CSUEB ID, and $8 general. They may be reserved at tickets@csueastbay.edu or by calling (510) 885-3118.
DD