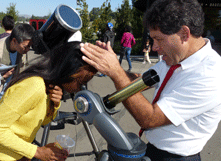 Gary Weston, associate professor of physics, adjusts telescope for interested student. (By: Barry Zepel)
The Hayward Star Party will come alive on the Cal State East Bay campus this Friday (Oct. 26) evening, when Gary Weston, associate professor of physics, leads a telescope observation of the Moon and planet Jupiter from 7 to 10 p.m. in the picnic area east of the College of Science buildings.
The campus community and the general public are invited. Admission is free.
"The Moon will be in a waxing gibbous phase (scientific language meaning that the Moon rises high in the eastern sky at sunset) at about 4:30 p.m., about two hours before sunset at about 6:15 p.m.," said Weston, who is being assisted by CSUEB physics lecturers Bill Pezzaglia and Louis Villanueva. "Jupiter will rise at about 8:30 p.m. and be visible from campus within an hour or less after rising. We will observe the craters on the very bright moon, which is about 2.5 days shy of being a full moon.
"Later in the evening we will also observe Jupiter and a few of its moons," Weston added.
If there are cloudy skies over Hayward during the early evening hours, the Star Party will be canceled.
BZ