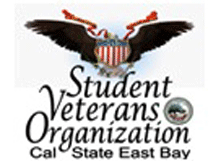 Student Veterans Organization logo
UPDATE: The CSUEB Veterans Affairs office has postponed the sixth annual Veterans Welcome Reception and Information Presentation -- originally scheduled for Nov. 6 at 2:30 p.m. -- until Jan. 23. Further information about the rescheduled event will be provided by the Veterans Affairs office in December.
Cal State East Bay will be recognizing current and former members of the U.S. military at home athletic events on the Hayward campus in early November as the country prepares to honor those who protect the nation, as part of Veterans Day Monday, Nov. 12.
Cal State East Bay's Athletic Department has proclaimed Sunday, Nov. 11 "Military Appreciation Day," when the university's men's basketball team hosts Notre Dame de Namur for a 2 p.m. tipoff in Pioneer Gym. Admission to the game will be free for all current and retired military personnel and a guest.
The Athletic Department also will honor current and former members of the armed forces with the annual "Help a Hero" fund-raising campaign to benefit the Veterans of Foreign Wars (VFW) Operation Uplink. This effort is in partnership with Sports Clips of Hayward.
Through Nov. 11, everyone who gets a haircut at Sports Clips of Hayward will receive a free weekend pass to CSUEB women's and men's home basketball games Nov. 9-11. That includes the men's game against Notre Dame de Namur and the women's games versus Dominican University (Nov. 9, 7 pm.) and Academy of Art (Nov. 10, 5 p.m.).
"The Cal State East Bay men's basketball program welcomes with open arms all veterans who wish to come watch the Pioneers compete, and we offer our sincere thanks," said Will Biggs, head men's basketball coach. "In honor of the service of our veterans, our entire team made it a priority to register to vote and participate this week's election.  Nothing is greater than the ability to choose freely, and without your sacrifice, we would not be able to chase our dreams and challenge ourselves to become the best we can be. It is an honor to compete against Notre Dame de Namur in your presence, and our team's effort will be in your honor."
Operation Uplink connects deployed and hospitalized U.S. service members with loved ones through free phone calls. Since the program began in 2007, nearly two million free phone calls have been provided to military personnel.
"These calls are more than just morale calls," said Gordon Logan, CEO and founder of Sports Clips. "They're often a lifeline for those who are far from home -- sometimes on their second or third deployment. "The calls were important to me when I was overseas in the Air Force, and are still important today."

BZ