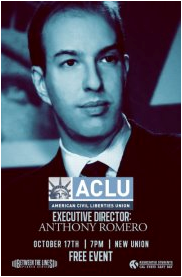 Poster for the Anthony Romero lecture on CSUEB Hayward campus on Oct. 17, 2012.
Anthony D. Romero, the first Hispanic — and also its first openly gay — executive director of the American Civil Liberties Union (ACLU), will speak at Cal State East Bay on October 17 at 7pm in the University Union.    
Romero, an attorney with a long history of public-interest activism, has been executive director of the ACLU since 2001. Under his tenure, the organization has expanded its nationwide litigation, lobbying and public information efforts, including new initiatives focused on human rights, religious freedom, technology and privacy, reproductive freedom, and LGBT rights. He is the first Hispanic to serve as executive director and in 2005 was named one of Time Magazine's "25 Most Influential Hispanics in America."
Romero appeared on The Colbert Report to explain why America needs the ACLU to support the Constitution.
Visit the ASI event page for more information. The event is free and open to the public.
KL