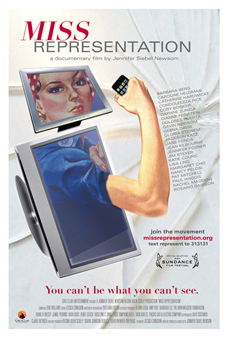 Movie poster for documentary Miss Representation which will be shown on the CSUEB Concord campus on Oct 20, 2012. (By: missrepresentation.org)
Attend a screening of Miss Representation on Saturday October 20 at 12:00pm at the CSUEB Concord Campus. This event is co-sponsored between the Associated Students of CSU East Bay and the Concord Branch of AAUW. There will be a short introduction by District IV Supervisor Karen Mitchoff and post- film discussion.
The documentary Miss Representation, by Jennifer Siebel Newsom, premiered at the 2011 Sundance Film Festival, and aired on OWN: Oprah Winfrey Network. The film explores how the media's misrepresentations of women have led to the underrepresentation of women in positions of power and influence.
There will also be a donation at the door for anyone who cares to donate and a $5 parking lot fee for anyone not displaying a CSUEB parking pass. For more information, contact ASI Concord Representative Stephanie Pinkston at (925) 497-3023 or email asidirconcord@csueastbay.edu
AD
Oct. 22, 2012 update: view event photos