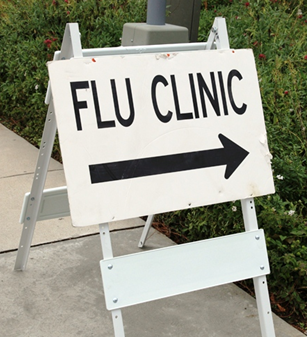 a white directional sign for a flu clinic.
Cal State East Bay Student Health Services will offer a walk-in flu shot clinic on October 30 and 31 at the Student Health Center on the Hayward campus. Flu shots are available to students, staff, and faculty at a cost of $15. Supplies are limited.
According to the Centers for Disease Control and Prevention (CDC), influenza (the flu) is a contagious respiratory illness caused by influenza viruses. It can cause mild to severe illness, and at times can lead to death. Some people, such as older people, young children, and people with certain health conditions, are at high risk for serious flu complications. The best way to prevent the flu is by getting vaccinated each year. The upcoming season's flu vaccine will protect against the three influenza viruses that research indicates will be most common during the season. This includes an influenza A (H1N1) virus, an influenza A (H3N2) virus, and an influenza B virus.
Flu shots will be available at the Concord campus by appointment; call 925-602-6709.
KL