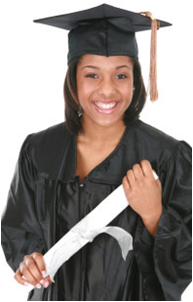 a college graduate holding her diploma from CSUEB.
The Office of  the Registrar be be holding their "Graduation 101" workshop on the following dates:
Thursday, November 15, 2012    10 -11 am
Tuesday, February 12, 2013    2 – 3 pm
Tuesday, March 5, 2013    4:30 – 5:30 pm
Wednesday, April 10, 2013    10 – 11 am
Each session will present the same information and will be held in MPR of the new University Union. Learn the answers to the following questions and much more:
How does graduation relate to commencement?
Will my name be in the commencement program?
What do I need to graduate?
How does graduation filing work, and when should I file?
What is the timeline to graduate and get my diploma?
What if I filed for graduation but still have classes to take?
This workshop will NOT answer questions about individual records or provide academic/course advisement. Attendees will learn how to avoid delays and better understand the CSUEB graduation process.
No advance reservation is required, this is a free event. For questions send an e-mail to: reg@csueastbay.edu or call (510) 885-2784 and select menu option #5.
KL