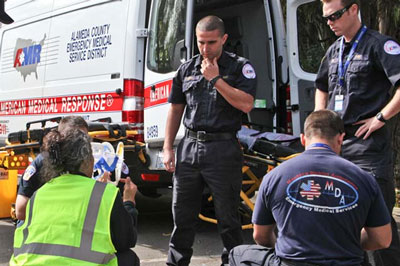 Alameda County paramedics participating in an Urban Shield exercise.
Cal State East Bay will again host Urban Shield law enforcement training from Saturday, Oct. 27, through Monday, Oct. 29. Urban Shield 2012 is a full-scale training exercise that gathers 50 participating agencies representing law enforcement, fire, and emergency medical services to test and strengthen emergency response skills.
The campus community and surrounding neighbors of the university are being advised that the campus will be a buzz of police activity for 48 consecutive hours – beginning 5 a.m. on Saturday through about 5 a.m. on Monday. The center of the Urban Shield exercises will take place on the west side of campus, with Warren Hall, the university's old administration building, being the center of the activity. Parking in lot B will be limited to agency vehicles participating in Urban Shield 2012.
Each SWAT team will attempt a hostage rescue with multiple hostages and casualties on scene in various states of severity. The Urban Shield scenarios used are described as "hyper-realistic," with explosion sounds, simulated blast injuries, simulated gunfire and Hollywood level victim makeup.
CSUEB hosted Urban Shield in 2011. View photos from University Police Department (warning: simulated graphic injuries) and watch the Pioneer TV news video.
The public can follow online the activities of the Urban Shield exercises at CSUEB and other locations in Alameda County, as well as get additional information about the program, at urbanshield.
KL