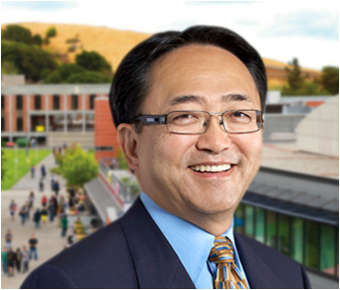 Head shot of Cal State East Bay President Leroy Morishita.
On October 12, California State University, East Bay will celebrate the investiture of Dr. Leroy M. Morishita as the fifth president in the University's 55-year history, in conjunction with two long-standing annual events — Faculty Honors Convocation and al Fresco. The entire University community is invited to attend.
Faculty Honors Convocation &
Presidential Investiture
10:30 a.m.
Outdoor Peristyle, Music Building
al Fresco
12:30 p.m.
Arts & Education Courtyard
About 2,500 people are expected to attend the 24th annual al Fresco "welcome back to campus" festival which is one of the largest events on campus. Al Fresco offers a chance for sororities, fraternities, clubs and organizations to provide students with information about campus resources and departments. Food being served at al Fresco will include wrapped sandwiches, with vegetarian alternatives, and other refreshments
KL