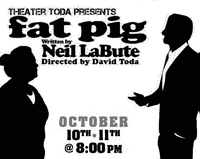 Black and white lineart of plus-sized woman, tall man.
Cal State East Bay audiences will get a sneak peek at Neil LaBute's play "Fat Pig" before it moves to San Francisco for a four-week run. Simultaneously, audiences can enjoy the work of alumnus David Toda, theatre arts '05, and contribute to the Department of Theatre and Dance.
"Fat Pig," directed by Toda, will perform at 8 p.m. Oct. 10 and 11 in the Studio Theatre, 25800 Carlos Bee Blvd., Hayward, 94542. All proceeds from tickets at $5-15 will go to theatre and dance.
The play, which debuted Off-Broadway in 2004, addresses dating expectations between a handsome, successful salesman and his plus-sized love, and the reactions of their friends. Compounding the complexity of this interpretation, Toda has cast women in both roles.
Toda says the dramatic comedy is a poignant and relevant human story revealing people's expectations, and the choices we make.
Toda, who has been creating and studying theater for 30 years, said, "My goal with showing this production here at Cal State East Bay is to give back to the school that gave me so much. I want to share my work as an artist, to offer a demonstration and example to the current students of the Theatre and Dance Department, to create a bridge from being a student to becoming a professional, and also to enhance the CSUEB program with all the proceeds from the guest performances. 
"At this time in my career, while I cannot offer a large financial donation, I can offer these performances of 'Fat Pig,'" he said.
Thomas Hird, professor and theatre and dance department chair, said, "This is a tremendous opportunity for current majors to recognize the potential of their own careers. What's more, the play itself delivers such a strong message for society today, in a very fun way, that campus performances should be equally interesting to the whole campus community."
Toda earned an MFA in acting from the Academy of Art University '09, and recently incorporated Theater Toda which produces theater and original short movie works in the Bay Area. Toda has appeared in many short films and web series, including, "Habitula Aggression," a Best Picture finalist in The African Academy Awards Festival, and the recipient of critical review at the 2009 Cannes Film Festival.
Theatre Toda may be reached at (510) 418-2229. Tickets will be sold at the door. Parking will be $4 per vehicle in pay lots.
CSUEB welcomes persons with disabilities and will provide reasonable accommodation upon request. Please notify event sponsor in advance at 510-885-3118 if accommodation is needed.
"Fat Pig" moves to San Francisco's Box Car Theater Studios Oct. 17-Nov. 10.
DD