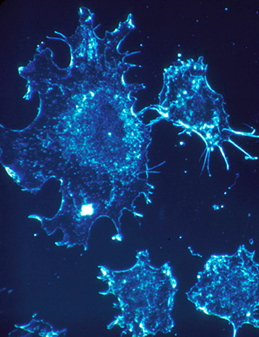 Cancer cells in culture from human connective tissue, illuminated by darkfield amplified contrast, at a magnification of 500x. (National Cancer Institute)
James Felton, Ph.D., associate director UC Davis Cancer Center and senior biomedical scientist Lawrence Livermore Laboratory, will explain how basic chemicals - in our environments, in our diets, in our medicines - can bring cancer.
Felton will review genetic susceptibility, metabolism, DNA binding, mutations, chromosome damage, gene targets, and more in a search to understand why, in a particular case, one chemical might be more potent than another as a cancer-causing agent. His goal is to help us find sensible ways to cope with the dangers ordinary chemicals can pose and still get on with life. Scary stuff, to be sure, but here's a case where ignorance is not bliss.
This event will be held over four consecutive Thursdays from10:30 a.m. to 12:30 p.m. beginning on October 25. It is provided as part of the Osher Lifelong Learning Institute (OLLI) program and will take place on the Cal State East Bay, Concord Campus located at 4700 Ygnacio Valley Road, Concord. Visit the OLLI Web site to register for the lecture.
KL