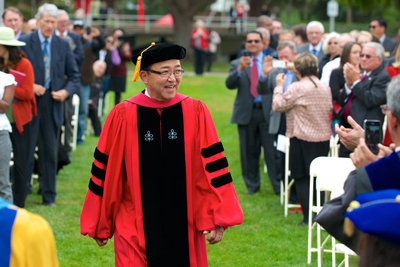 President Leroy M. Morishita at the Oct. 12 Investiture Ceremony; see more photos of the Day of the Celebration and the Week of Service in our online galleries.
A series of Presidential Investiture "Day of Celebration, Week of Service" events brought multiple branches of the CSUEB community together in early October, as seen in two photo galleries available online.
A gathering of 241 Cal State East Bay volunteers kicked off the week of festivities and service activities Oct. 6 with a beautification and clean-up project at Harder Road Elementary School, where they repainted four-square lines on the playground, spruced up classrooms and weeded the gardens among other maintenance tasks.
Additional activities during the week, such as providing assistance to Friends of Hayward Library, led up to the Oct. 12 faculty honors convocation and investiture ceremony for Leroy M. Morishita as the university's fifth president. The event drew hundreds of faculty, students and staff, as well as dignitaries from CSU Chancellor Charles Reed to the Consul General of Japan based in San Francisco.
MB