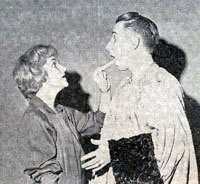 Grainy, black and white image of a young man and woman.
Jim Irving, now 71 and a long-time resident of Leitchfield, KY, got quite a surprise recently when he picked up his mail and saw a 1961 photo of himself starring in Moliere's "The Imaginary Invalid." 
This was the first presentation by Alameda State College's Drama Department – that would eventually become Cal State East Bay's Department of Theatre and Dance – and the announcement was heralding the department's 50th anniversary.
"You cannot imagine (my) surprise when I saw my picture on the cover of your postcard," said Irving.
He recalls that he was brought into the program by Hayward High School drama teacher George Wilson, and, in addition to acting in the old building at Hayward High School, he also helped construct the theatre seating and control room, build sets, did makeup, hung lights, and more.
He went on to act in "The Glass Menagerie," that same year, and "A Phoenix to Frequent" in 1963.
Irving earned a degree in drama in 1965, and a provisional teaching credential from what has become CSUEB before being drafted into the military in October 1966, and spending 18 months in Vietnam. His hopes to use his education in USO shows never materialized, but he did put his skills to use lecturing to classes and reading Bible passages in church – where people said he sounded like actor Charlton Heston in the movies.
Irving retired from the Army in 1989, moved from Indiana to Kentucky, and became a cattle farmer and grew tobacco. "We now have a few chickens and a big garden," he said.
Theatre and Dance is celebrating its golden anniversry through Oct. 20. More photos of Irving, and of the celebration are at: arts and culture
DD