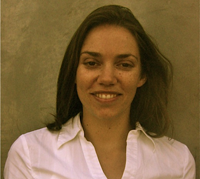 Head shot of Mariah Young.
On Monday, Nov. 5 Mariah Young will return to her alma mater, the CSUEB Hayward campus, as the first of this year's English Department "Distinguished Writers" – just six years after graduating with a degree in English (creative writing emphasis) and a minor in political science.
"The thought of returning to CSU as an alum is a funny kind of homecoming, and to come back to be part of the distinguished writers' series makes me take stock in how I arrived here, as a writer and teacher," she said.  
"I was just a sprig of a writer when I was an undergrad at Cal State Hayward (yep – old school). I remember lying on the lawns that stretched between the bookstore and Meiklejohn Hall, reading stories from my fiction textbook during my math classes, and writing on the concrete walkway of Warren Hall, overlooking the bay, marveling at the breadth of the view and feeling the library beneath my feet.   
"I went to as many of the writers' talks and readings as I could, listening to poets and fiction writers share their work and their craft with me and my friends, all miscreant writers and artists who secretly hoped to one day share their work with the world."
Many of her favorite campus spots have been replaced with new trellises, new sculptures, and new building facades. She finds the campus nicer now, newer, but she got lost walking through a place that she once could have navigated blindfolded.    
Other things are the same, such as the silhouette of Warren Hall stretching up from the hills – in her day, it was called the haystack – and how it is visible for miles around.   
"It was a beacon for me as a student, something I could point to and say, "That is where I go. That is my place," she said.  
"Though I have changed much, that feeling remains the same whenever I return to the bay and see the haystack, overlooking corridors of highways and houses, always there. Coming back to the campus will be like returning to a world that only has pieces of what I remember of it still intact, but is nonetheless a home," said Young.  
Everyone is invited to hear the San Leandro native read from her debut collection, "Masha'alla and Other Stories," at 7 p.m. Nov. 5 in the Biella Room of the University Library, 25800 Carlos Bee Blvd. Admission will be free. Parking is $2 per hour. A book signing will follow.  
DD