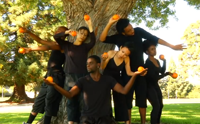 People in dance stances holding persimmons.
Students, alumni, and staff have created a "dance for the camera piece" named, "Un/Guarding the Harvest," in conjunction with Nina Haft, theatre and dance associate professor.
Participants include students Krystal Bates, Shawn Hawkins and Justin Sharlman; alumni Frances Sedayao, '01, and Anthony Johnson Jr., '12; and Matt Payne, a staff member in music, did the sound design.
The piece was commissioned by the Jewish Community Center of San Francisco for their GimmeShelter project, a digital showcase of music, visual art, theatre and dance around themes from the Jewish holiday of Sukkot. 
Much of the filming by Dan Wolf was done on the CSUEB campus.
The film – showcasing artists' responses to ideas and practices connected to Jewish themes – is being shown until Oct. 12 in the lobby of the San Francisco Jewish Community Center, and then will be available permanently online 
DD