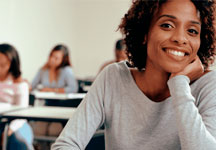 woman smiling while she dreams of attending graduate school at CSUEB.
The Northern California Forum for Diversity in Graduate Education is an all-day program designed to acquaint students with academic and career opportunities associated with advanced study in a wide range of disciplines. There are workshops, panel sessions and opportunities to meet representatives from the nation's leading graduate schools. 
This event is open to CSUEB sophomores, junior, seniors, and masters students.
Saturday, November 3rd, 2012
9:00 AM to 4:00 PM
San Francisco State University
What does the Forum have to offer you?
The opportunity to meet with representatives from approximately 200 graduate schools from across the U.S. and abroad.
The opportunity to attend a wide variety of workshops and receive answers to your specific questions. 
Workshop topics include:
        How to Select, Apply and Prepare for Graduate School
        Demystifying the GRE
        The Role of the Masters Degree
        Financing your Graduate Education
        Undergraduate Research Opportunities
        How to Write a Winning Statement of Purpose
        Keys to Success and Survival in Graduate School
        Managing Health, Wellness and Disability in Graduate School
        Identifying Pathways for AB540 and Undocumented Students in Graduate School
The opportunity to attend discipline panels in your field of interest, including:  Physical Sciences/Math; Education; Arts and Humanities; Life Sciences; Social Sciences; Behavioral Sciences; Engineering and Computer Science; Health and Human Services.
Free access to the Princeton Review's online GRE prep course, 
Complimentary lunch and transportation to and from the CSUEB Hayward campus.

Registration is now open and available in Academic Programs and Graduate Studies - SA 4500, Accessibility Services - Library Complex 2400, or at the Academic Services Office on the Concord Campus.  There will be a $20 space reservation deposit collected at the time of registration that will be refunded on the day of the event.
 
Space is limited so RSVP no later than October 19.

For more information, call (510) 885-3286 or e-mail APGSstudentservices@csueastbay.edu.
KL