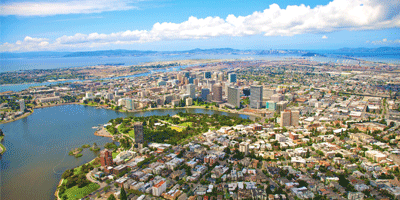 Aerial of Lake Merritt and downtown Oakland
Oakland has arrived. Last month Bloomberg Businessweek recognized Oakland as one of the best cities to live in the country. The Businessweek article is only the lastest in a spate of coverage highlighting Oakland as an up and coming city with plenty to entertain citizens and visitors alike. Besides Businessweek, Oakland was highlighted recently by Refinery 29, and twice by the New York Times in less than a year.
Cal State East Bay is proud to have served the Oakland community for 10 years, and we look forward to growing and developing our relationship with Oakland and the larger East Bay communities in the future.
LP