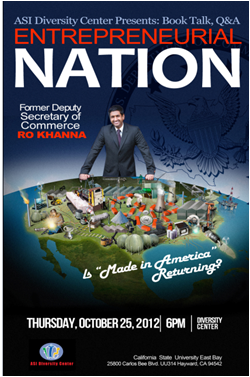 Poster for the Ro Khanna lecture scheduled at Cal State East Bay on October 25.
Former deputy assistant secretary of the U.S. Department of Commerce and author Ro Khanna argues that, despite everything you've heard about the economy, America continues to be a world leader in manufacturing. He will explain to the Cal State East Bay campus on October 25 how innovative companies are staying ahead of the curve. Khanna will cover other key elements from his revised book, Entrepreneurial Nation: Why Manufacturing is Still Key to America's Future (McGraw-Hill, 2012).
Khanna spent  2009-2011 as deputy assistant secretary of the U.S. Department of Commerce, where he worked with the country's most influential business and labor leaders to rebuild the nation's manufacturing sector and increase America's exports. He also served on the White House Business Council. Khanna is now a visiting lecturer in the Department of Economics at Stanford University and a technology attorney at Wilson Sonsini Goodrich & Rosati. He is based in San Francisco and planning to run for US Representative of California's 15th District in 2015. Should he win the Office, he will be in the first Indo-American Congressional representative in Washington, DC since 1956.  
This lecture is part of the Book Talk series sponsored by the Associated Students, Inc. Diversity Center and will take place at 6:00pm on Thursday, October 25 in the Cal State East Bay Diversity Center, new University Union. The event is free and open to the public.
KL