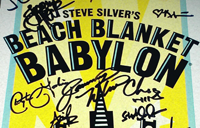 A signed Beach Blanket Babylon poster,
The Cal State East Bay Department of Theatre and Dance hopes to attract crowds Oct. 15-20 when it celebrates its golden anniversary with performances, panel discussions, workshops and classes, culminating with a barbecue for alumni, a benefit show and auction, and celebration of Thomas Hird, professor and chair's, 40th year with the department.
All offerings are free. Reservations are required for the barbecue, and benefit show and auction. Proceeds from the auction will go to the department's archive project that is preserving materials from the past, and ensuring their accessibility. Donations at the show will go to the department's scholarship fund.
A complete list of activities is at: schedule of events
The week kicks off with a panel discussion by professionals on how to get hired, continuing collaboration, and reflections on the journey to the professional world by Nina Haft, associate professor and owner of a namesake company; Melissa Hillman, Impact Theatre; Erin from Swank Audio; and James M. Iglehart, '98, who was in the Tony Award winning musical, "Memphis;" plus a video interview with Scott Chambliss, '85, production designer for "Star Trek," "Salt," "Cowboys & Aliens," and the TV series, "Alias." It is set for 5-7:30 p.m. Oct. 15 in the University Theatre.
Also on tap are a musical theatre master class from 1-4 p.m. Oct. 16 in the University Theatre; a theatre arts skills in the workplace program by alumni from 4-5:45 p.m. Oct. 17 in the University Theatre; a multimedia workshop from 6-7:30 that evening in the sound room; a gore and make-up workshop from 6-8 p.m. Oct. 18 in the theatre make-up room; and much more.
The benefit show will include performances by such alumni as Frances Sedayo '02; Craig Marker '02; Amy Marie La Faille '10; Grace Alvarez '07; Felicia Lilienthal '06; April Rodriguez '05; Mary Ann Mackey '69; Paul Harkness '82; and Corissa Johnson '07. Also performing will be Darryl Jones, associate professor, and students; and Chave Alexander, a Beach Blanket Babylon understudy.
Auction items include a "Star Trek" poster signed by director J.J. Abrams and production designer Chambliss; a "Memphis" poster signed by Iglehart; a signed BBB poster and tickets; as well as art and books, several performance tickets, and wine.
The celebration continues online with a design exhibit, daily blog, and social media and marketing tips. 
The department may be reached at (510) 885-3118.
The department website is: theatre
DD