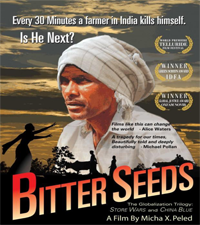 Poster promoting film showing the face of an Indian farm worker.
Everyone is invited to a screening of "Bitter Seeds," a film on current social issues in India, followed by a discussion with the director from 10 a.m. to 12:30 p.m. Nov. 29 in the New University Union multi-purpose room, first floor, of the Hayward campus. 
Presented by the CSUEB Asian/Pacific Islander Faculty and Staff Association, and SSOS, the university's Student Service Operation to Succeed, the film is being shown to the Viewing Diversity cluster course (ES1005/PHIL1005/MLL1005).
The film promotion reads: Biotechnology is changing the way farming is done all over the world. Advocates believe the "New Green Revolution" is the only way to provide sufficient food for the world's growing population while opponents raise environmental concerns and fear that GMOs drive small-scale farmers off the land. "Bitter Seeds" explores the controversy — from a village in India that uses genetically modified seeds to U.S. government agencies that promote them.
Meiling Wu, associate professor of modern languages and literatures, made friends with director Micha X. Pelet when he screened, "China Blue, on campus in 2009. She was privy to the uncut version of "Bitter Seeds" in 2010. The new film has already been shown in San Francisco, Taiwan and Vietnam.
Wu said, "We wish students and the campus community will learn from the film about cultural diversity, globalization issues, and documentary film making experiences."
DD