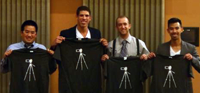 Yolta Ito, left, Joshua Folsom, Tyler Green and Justin Nunez with their first place T-shirts.
A film created in seven days by Cal State East Bay students Yolta Ito, Joshua Folsom, Tyler Green and Justin Nunez took "Best Picture" honors in the 2012-13 Campus MovieFest competition held on the Hayward campus.
Their suspenseful entry, "Translucent," will be screened at the CMF national event in Hollywood in June 2013, where the film has the potential of going to the Cannes Film Festival in France. In addition to the trip to Hollywood, the "Translucent" creators will receive a one-year membership to Adobe Creative Cloud, consisting of all Adobe Creative Suite 6 products.
"Statuesque," created by Peter Simms, took best comedy honors; Jaime Niedermeier's "girl+truck+dog" – in which a working college student struggles with divorce and homelessness  – was named best drama; and Serial Painters received a special award for the "Wavelengths" soundtrack. Genesis deLuna was named best actress for her role in "Infactacion," and Green was named best actor for his role in "Translucent."
Nunez, a senior in art, said the foursome knew they wanted a horror theme in keeping with the proximity to Halloween, but it took three days of brainstorming to settle on the plot.
Simms, on the other hand, wrote "Statuesque" – in which two museum statues have a conversation - in 2006 while working in the Los Angeles movie industry and offered it up to others. When no one bit, he and fellow computer science students and those studying theatre scrambled to get the story on film, including original music by colleague Gregg Stephens. 
CMF provides the students with all of the equipment needed for the project. Preliminary judging of the 16 entries was done by students, faculty and staff. All film winners receive an inviatation to the June CMF event.
View all of the CSUEB entries on CampusMovieFest
Candid photos from the CSUEB event are on Facebook.
DD