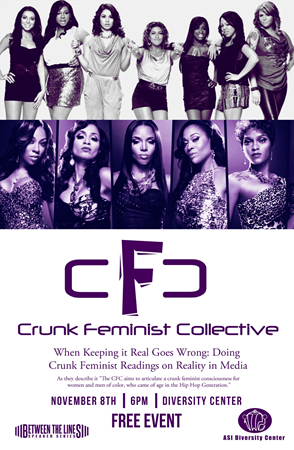 Postcard for Crunk Feminist Collective lecture at CSUEB on Nov. 8. (CSUEB ASI)
Brittney Cooper and Susana Morris started the Crunk Feminist Collective while graduate students at Emory University.  They were part of an informal group of women of color feminists who routinely convened with one another for fellowship, commiseration and strategizing about how to be successful in grad school. They began to refer to themselves affectionately as the Crunk Feminist Collective, in part influenced by the Southern musical ethos of Atlanta, but also by their absolute willingness to "get crunk" or to deploy crunkness as a form of resistance to the racist, sexist, and heterosexist assaults that they routinely experienced.
Both are now university professors - Morris as an assistant professor of English at Auburn University and Cooper as assistant professor of Women's Studies and Africana Studies at Rutgers – and  were recently profiled in Essence Magazine's list of "Young, Black, and Amazing Women Under Age 35" (August 2012 issue). They will talk about the complexities of gender, race, sexuality and class at Cal State East Bay on Thursday, November 8 at 6:00pm in the Associated Students Diversity Center.
The event is free and open to the public. Contact ASI for more information at telephone: (510) 885-4843.
KL