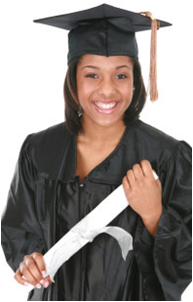 a college graduate holding her diploma from CSUEB.
The Office of  the Registrar be be holding a"Graduation 101" workshop on Thursday, November 15 at 10am in the multi-purpose room of the new Univeristy Union. Undergraduate and graduate level students are encouraged to attend.
Learn the answers to the following questions and much more:
How does graduation relate to commencement?

Will my name be in the commencement program?

What do I need to graduate?

How does graduation filing work, and when should I file?

What is the timeline to graduate and get my diploma?

What if I filed for graduation but still have classes to take?
This workshop will NOT answer questions about individual records or provide academic/course advisement. Attendees will learn how to avoid delays and better understand the CSUEB graduation process.
No advance reservation is required, this is a free event. For questions send an e-mail to: reg@csueastbay.edu or call (510) 885-2784 and select menu option #5.
KL