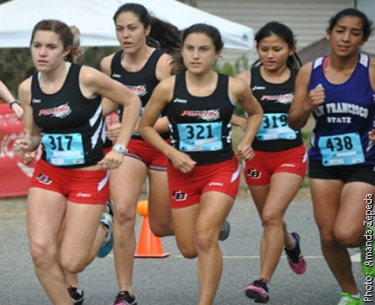 The Pioneer track team will hold a tryout for currently enrolled students on Nov. 27. (Amanda Zepeda)
The Pioneer track coaching staff will conduct an open tryout on Tuesday, Nov. 27 from 3-5 p.m. Currently enrolled Cal State East Bay students who have not been recruited by the coaching staff are eligible to tryout. Tryouts are for track events only.  No field events will be contested. Participants are required to bring all necessary physical paperwork and participation forms to the tryout, held at the Pioneer Stadium on the Hayward campus. Track spikes are encouraged for the tryout. All prospects should have a general fitness level before the tryout.
Information on the required forms and deadlines for submission is available on the Pioneer Athletics Web site. For further information or questions, please contact Assistant Coach Maija Hitchings at (510) 885-3824 or maija.hitchings@csueastbay.edu.
To participate in the tryout, please complete the required forms and return to Coach Hitchings no later than Thursday, Nov. 15.
KL