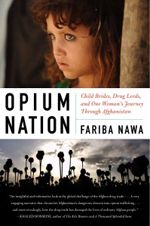 Fariba Nawa, author of 'Opium Nation' speaks on campus Nov. 29. book cover
Fariba Nawa, an Afghan-American freelance journalist and author of the book "Opium Nation: Child Brides, War Lords and One Woman's Journey Through Afghanistan" will speak of human rights in Afghanistan from noon to 2 p.m. Thursday, Nov. 29 in the University Union Bay View Room, 25800 Carlos Bee Blvd., Hayward.
She is hosted by the Political Science Department, with help from the Model United National Club and the Afghan Students Association, in celebration of International Human Rights Day, and to create an awareness of human rights.
Nawa will also show a short video, "Opium Brides," and take questions. Admission will be free, and food will be provided.
Nawa was born in Herat, Afghanistan to a native Afghan family. Her family fled to the country during the Soviet invasion in the 1980s, and eventually to Fremont, CA. In 2000 she ventured into Taliban-controlled Afghanistan by sneaking into the country through Iran. Her book was published year ago and is her personal account of the drug trade in Afghanistan and how it has affected the poor and disadvantaged.
Nawa's report, "Afghanistan Inc." in Corp Watch, is a main resources used by media around the globe while debating effectiveness of reconstruction efforts in Afghanistan. In it, she examines the progress of reconstruction, uncovers some examples of where the money has, and has not, gone, how the system of international aid works, and does not, and what it is really like in the villages and cities where outsiders are rebuilding the war-torn countryside.
This event is part of the year-long series of Model UN events and activities and is directly related to the MUN course curriculum, such as Professor Norman Bowen's, "The UN," taught this quarter, and the, "World Community," offered in the winter quarter.
Tanya Cano, a student member of the MUN Club and event organizer, said, "Fariba was selected due to the personal experience that she has had and we feel that she has an understanding of the human rights."
MUN is sponsoring a one-day Inter-Campus MUN Simulation on "The Global Financial Crisis:  Causes and Solutions" Saturday, Nov. 17. It will include student delegates from Laney College, The College of Alameda, City College of San Francisco, and San Francisco State University, as well as persons from CSUEB courses: POSC 3521 The Politics of the Global Economy, and POSC 3201 Politics of Western Europe. All will represent countries from around the world in a debate.
In October, the MUN group assisted at the Jack London Square UN Day Celebration by helping the Oakland high school JROTC students participated in the flag raising ceremony.
DD