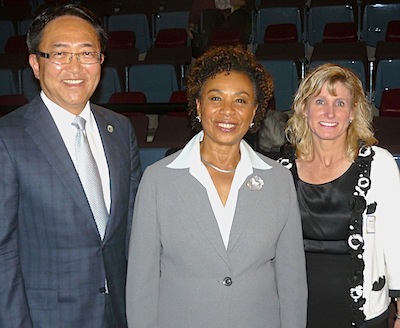 President Leroy M. Morishita, Rep. Barbara Lee, and Dr. Stephanie Couch at the Gateways East Bay STEM Network convening Oct. 10. (By: Barry Zepel)
As part of an ongoing regional initiative to improve educational outcomes in STEM (science, technology, engineering and mathematics) across Alameda and Contra Costa counties, the Gateways East Bay STEM Network convened a series of sessions and workshops with its stakeholders October 10 at the Chabot Space and Science Center.
The Gateways East Bay STEM Network is a collaborative partnership facilitated by the Institute for STEM Education at CSUEB. It is a component of the Gateways Cradle to Career Workforce Development Partnership, which launched in 2009 with a grant from the Living Cities consortium and includes more than 30 partners from business, education, civic, nonprofit and philanthropic organizations.
It is also one of the regional STEM networks throughout the state affiliated with the California STEM Learning Network (CSLNet). Dr. Stephanie Couch of CSUEB serves as director, leading the University's efforts in STEM education, working with faculty and other partners to promote and develop programs that increase STEM literacy for students in all majors, better prepare early childhood and K-12 educators to teach STEM, and address needs of educators in the field.
At the October 10 event, a plenary session for all participants included short presentations from several stakeholders, on various topics such as "STEM Gems," discussing successful existing programs, and the vision for the Gateways network and its multi-stakeholder approach.
CSUEB President Leroy M. Morishita and Couch, who is also the Bayer Executive Director of the Institute for STEM Education at CSUEB, to explained the Cal State East Bay STEM strategy. Morishita chairs the Gateways partnership with Chevron's Matt Lonner, manager of Global Partnerships and Programs.
Congresswoman Barbara Lee (D-Oakland), who cosponsored a STEM Career Awareness Day in May, addressed the group regarding the importance of the STEM fields for success.
Last year the Gateways Stem Network selected three main areas of focus for 2012:
STEM in Out-of-School Time (OST) such as afterschool and summer programs
Early STEM Learning for preschool children and students in kindergarten through third grade
Professional learning opportunities for STEM teachers
At the October 10 sessions, committees representing the three areas of focus participated in intensive workshops.
The Early STEM Learning workshop focused its efforts on developing a two-pronged strategic plan to understand best practices in Early STEM and to develop and implement a messaging campaign.
The OST groups focused on planning and implementation of a recent grant, Power of Discovery:  STEM2, for a new statewide initiative to expand learning opportunities in STEM for young people in California's out-of-school time settings. The grant was awarded to a partnership of the Alameda County Office of Education (ACOE), the Gateways East Bay STEM Network, and the Tech Museum of Innovation in San Jose.
The group will facilitate cross-sector partnerships, and provide tools, resources, and support to increase high quality STEM learning opportunities at more than 250 after school program sites across 11 Bay Area counties including Alameda, Contra Costa, Marin, Napa, San Francisco, San Mateo, Solano, Monterey, San Benito, Santa Clara, and Santa Cruz.
Bruce Simon, the associate director of the network, said the group plans to continue outreach, connecting stakeholders' work to the larger efforts to engage students in high quality STEM education. "We will be working with the elected officials in attendance to increase our advocacy efforts to raise awareness across the region. Also, we will recruit members from the attendees to assist us in establishing a fourth action group focused on Career Academies/Pathways and Linked Learning," Simon said.
SS