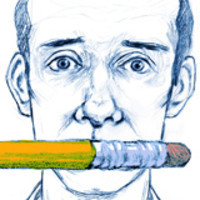 Graphic image of J.R. Havlan (writersblocpodcast.com)
J.R. Havlan, BS, business administration, ('87), launched the Writers' Bloc podcast which takes listeners behind the scenes of popular comedy shows from their writers' perspective.  Havlan is a stand-up comedian and 16-year veteran writer for The Daily Show.
He writes on the podcast Web site that his program takes the audience "on a tour behind the fourth wall and into the "complicated and jittery brains of the writers" of today's most popular comedies who have helped to create some of today's most popular and successful comedies, including The Daily Show, The Colbert Report, Saturday Night Live, The Office, 30 Rock, and more."
Lizz Winstead, co-creator and former head writer of The Daily Show, dished the dirt on Havlan during the first episode, "JR will pitch an idea. You say 'that's a great idea'.  But, then he keeps selling it. He keeps talking."  Havlan responded that he felt like he needed to lie down on a sofa in order to explain himself.
The first three episodes feature Elliott Kalan, Lizz Winstead and Rachel Axler – all are either former or current Daily Show writers. New episodes will be available for download every second Monday.
Download the podcast on iTunes. Stream it on the Web site. Follow the show on Twitter.
Read more about J.R. Havlan's road from Hayward college student to eight-time Emmy Award winner in the fall 2010 issue of Cal State East Bay magazine.
KL