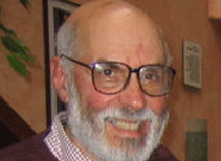 Larry Bensky
Cal State East Bay students will have a unique opportunity to participate in a live six-hour broadcast with their political science instructor Larry Bensky from 5 to 11 p.m. Nov. 6 that will be broadcast by San Francisco radio station KALW (91.7 FM).
The students are group leaders in the "American Presidency" class which Bensky, a longtime Bay Area broadcast journalist, teaches on the Hayward campus.  Students will lead on-air discussion about returns from swing states with the following students assigned to key states: Sita Ream-Rao (Nevada); Rebecca Patchen (Colorado); Miguel Cardenas (Wisconsin); Michelle Xiong (Virginia);  Quynh Trang (Ohio); and Sylvester Donelson (Florida).  
Bensky, 75, is a literary and political journalist with more than 40 years experience in both print and broadcast media, as well as a teacher and long-time political activist. He is known for his work as the Paris editor of The Paris Review and former editor of The New York Times Sunday Book Review. He has appeared as a guest journalist on C-Span, CNN, The Today Show, and The MacNeil/Lehrer NewsHour, as well as on San Francisco KQED-FM's "Forum" and KQED-TV's "This Week in Northern California."
The broadcast will originate at the Freight and Salvage club, 2020 Addison Street in downtown Berkeley.  It's free and open to all Cal State East Bay students, faculty, and staff. The CSUEB Community will also be able to listen to live streaming of the broadcast on the KALW Web site. 
KL