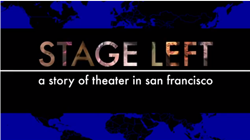 Name of movie on blue background
November 16, 2012 10:00am
Everyone is invited to a preview screening of "Stage Left - A Story of Theater in San Francisco," from 10:45 to 11:45 a.m. Monday, Nov. 19 in the Cal State East Bay Studio Theatre, room 182, 25800 Carlos Bee Blvd., Hayward.
The free presentation is sponsored by the Department of Theatre and Dance. Filmmaker Austin Forbord will be present to answer questions following the show.
The film brings together the directors, actors, composers and playwrights, the artists and the eccentrics who have made the Bay Area theater scene an experimental, multidisciplinary and political hotbed. Among those included are alumni and lecturer Melissa Hillman, '90 theatre and dance; Herbert Blau, Actor's Workshop; R.G. Davis, The Mime Troupe; Peter Coyote, actor; Bill Irwin, Pickle Family Circus; Robin Williams, actor; Oskar Eustis Eureka Theater; Tony Taccone, Berkeley Repertory Theatre; and Scrumbly Koldewyn, the Cockettes.
Thomas Hird, professor and chair of theatre and dance, said, "Bay Area Theatre has a rich history of providing a lively cultural home to many artists from society's otherwise underrepresented groups. One distinction of CSUEB is our commitment to bringing together students from all over the world, from a multitude of social groups. We'll learn from this film the lessons that Bay Area Theatre offers for success."
Click for more on the movie.
DD