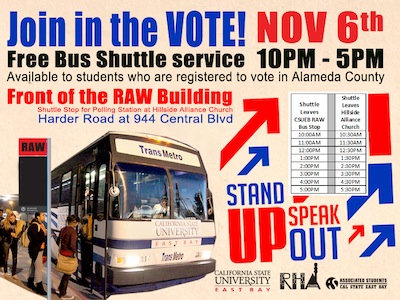 Join in the Vote! Nov 6th Free Bus shuttle service 10am-5pm available to students who are registered to vote in Alameda County. Front of the RAW Building shuttle stop for polling station at Hillside Alliance Church, Harder Road at 944 Central Blvd. Stand up! Speak Out!
Tuesday, Nov. 6 is Election Day, and we encourage all students, faculty, and staff to make your voices heard at the polls.
Polls are open from 7 a.m. to 8 p.m. You can locate your polling place at the League of Women Voters Web site. If you haven't voted by absentee ballot already, plan to set aside time in your day to visit your polling place and cast your ballot. 
For those living on or near campus who are registered to vote in Hayward or Alameda County, you can catch a shuttle to the polls thanks to Associated Students, Inc. Shuttles will leave from the bus stop outside of the Recreation and Wellness (RAW) building every hour from 10 a.m. to 5 p.m. Riders will be taken to the nearest voting station (Alliance Hillside Church) and brought back to the RAW Center bus stop.
It's your vote - it's your voice!
SS