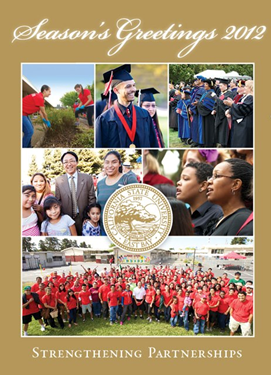 Season's Greeting's 2012 poster
In observance of the Winter Holiday Break, all offices of California State University, East Bay will be closed from 5 p.m. December 21st through 8 a.m. Wednesday, January 2nd, 2013. 
For any university emergency, Cal State East Bay's University Police Department should be contacted at (510) 885-3791.
Information about the university can be obtained through CSUEB's Web site
Cal State East Bay's students, faculty and staff wish the community a safe and pleasant holiday season.
BZ