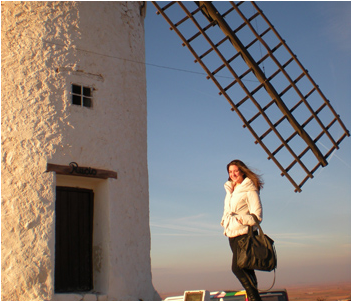 college student in front of the windmills of La Mancha in Spain.(CSU)
Only 1% of American students take advantage of study abroad programs and U.S. Secretary of State Hillary Rodham Clinton is urging even more to think about going international. In a video message for International Education Week, Clinton said, "To remain the leader in this ever-changing world, we have to push ourselves not just to think globally, but to get out there and study globally as well."
The Center for International Education at Cal State East Bay offers programs that allow students to study abroad in another country or in another part of the United States. Imagine studying business in Korea, history in Spain, or biochemistry in Sweden.
Pioneers can choose to go overseas for one semester or for an academic year while gaining academic credit towards their degree at an affordable price. Students can study a variety of majors in a number of different countries.    Many students go overseas to learn about another country, culture, and people.  Few return unchanged.
Financial aid and residential credit applies to many of the programs.  Learn more about the study abroad program by attending an information session on December 5 at 3:00pm or December 7 at 11:00am in the Library's Biella room.
For more information, call the Center for International Education at 510-885-2880, visit their office at LI 2550 or check out their Web site.
KL