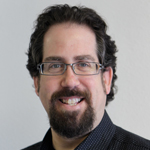 Leigh Korn, cantor at Temple Isaiah in Lafayette, Calif., will discuss the Jewish identity in American musicals on Jan. 9. (temple-isaiah.org)
Since the inception of the American musical, Jewish writers, singers, actors and dancers have brought to the stage a powerful and appealing vision of America. Leigh Korn, cantor at Temple Isaiah in Lafayette, Calif., will explore this vision of an optimistic, inclusive nation in which Jews and others could both lose and find themselves.
On the stage -- in music, dance, and words -- was expression of one's unique identity mixed with hope for assimilation. Korn will discuss this fascinating interaction in a lecture/concert that illustrates how the problem of identity weaves through 20th century musicals and continues on the current Broadway stage.
Korn is an active member of the American Conference of Cantors and is currently working with its Task Force for Continued Education to develop a curriculum in the fields of musicianship, conducting and music technology.
This event will be held on Wednesday, January 9 from 2:00pm to 3:30pm. It is provided as part of the Osher Lifelong Learning Institute (OLLI) program and will take place on the Cal State East Bay, Concord Campus located at 4700 Ygnacio Valley Road, Concord. Visit the OLLI Web site to register for the lecture.
KL