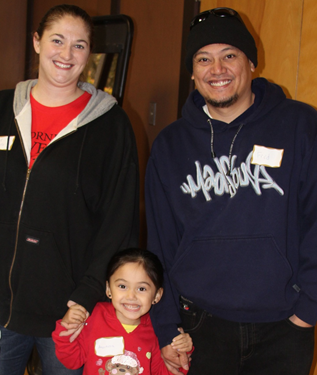 2012 Hayward Adopt-A-Family event
The spirit of the holidays is in giving to others, and Cal State East Bay employees did their part in making the season bright for needy Hayward families through their donations and time to the 15th Annual Adopt-A-Family held at the Hayward Senior Center. Local families were treated to breakfast, photos with Santa, gift rooms, and warm coats.
Corey Gin, acting director of the Leadership and Employee Enrichment Program (LEEP) at Cal State East Bay, led the University's effort to secure coat donations from faculty, staff and employees. His three week campaign netted four large boxes - enough to fill an entire SUV - of coats which were delivered to the Adopt-A-Family program.  Gin, along with two dozen CSUEB employees and their families, volunteered their personal time to help sort and organize coats on the day of the event.
"We saw many happy faces on each of the parents and their children," said Gin. "It was important to our employees that we had this opportunity to give back to our local Hayward community."
Coordinated by Volunteer Hayward, Adopt-A-Family participants are selected on a referral basis, with families recommended by law enforcement, the county, the city, the park district or social service groups. Families may have recently seen a breadwinner laid off or are going through varying hardships.  
View photo gallery.
Way to go, Pioneers!
KL