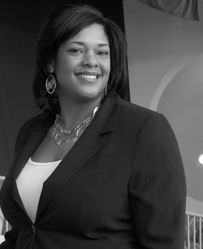 Dawn Ellerbe, assistant athletic director
Assistant Athletic Director for California State University, East Bay Dawn Ellerbe was named an award winner for the 2012 NCAA Division II Game Environment Award of Excellence by the California Collegiate Athletic Association for her leadership on "Pioneer 1K Pack the House Challenge."
The Award of Excellence supports promotion of a positive game day environment on Division II campuses across the country. The Pioneer "Pack the House Challenge" encouraged CSUEB students to attend a Pioneer basketball game and help break the previous years attendance record by recruiting 1,000 fans to pack the Pioneer gym. Each fan in attendance received a free burrito from Chipotle Mexican Grill thanks to a partnership arranged by Ellerbe.
Ellerbe joined Cal State East Bay in 2009. Prior to becoming a Pioneer, Ellerbe was the Director of Marketing for Olympic Sports at the University of South Carolina, where her marketing team won the 2008 NCAA SEC Women's Basketball Attendance Challenge and in 2009 won a NCAA Division I Women's Basketball Grant of $48K to promote that sport on campus.
Way to go, Dawn! 
KL