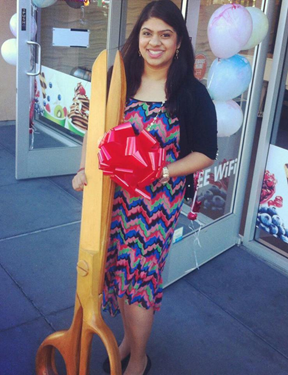 Raheela Dharani '12 at the grand opening of Yogurt Hill on Nov. 3. (courtesy of Raheela Dharani)
Raheela Dharani '12, BA communications, tried a corporate career after graduation but quickly decided that path wasn't for her. "I was working full-time as a human resources assistant, but I realized that it wasn't enough for me. I wanted to pursue more."
And "more" was opening her own business which she realized on Nov. 3, 2012 when Dharani and her brother-in-law, Rahil Hussain, opened Yogurt Hill on B Street next to Century Theatres in Hayward.  Their new shop offers fresh yogurt with real fruit purees, whole ingredients, and beneficial live and active cultures to craft premium frozen yogurts and sorbets.
Dharani credits her CSUEB degree as well as her campus experiences for providing the background and confidence to become an entrepreneur. She served as the Vice Chair for ASI's Finance Committee, volunteered as the Public Relations Student Society of America (PRSSA) President (2011-2012) and tutored in the communication department.
She also offers advice to other future small business owners, "Never fear someone's advice, however, don't tell too much of your plans to someone because business is competitive. Ask your friends and family for their support. Use all your contacts! Lastly, don't expect to succeed. If it's meant to happen, it will. Trust your own ability."
Dharani hasn't forgotten her alma mater. CSUEB students always receive a 5% discount when they show a current University ID. Stop by Yogurt Hill located at 1081 B Street, Hayward, CA.
For more information, visit the Yogurt Hill Facebook page.