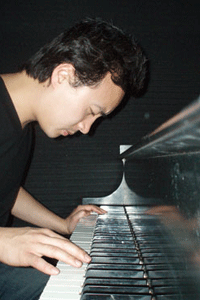 Nick Vasallo (By: Denise Vasallo)
While Nicholas Vasallo may be a composer, vocalist and bass player for an extreme metal band called Oblivion, the group's name in no way describes where his musical career is headed.
Nick Vasallo's musical influence is only continuing to grow.
Vasallo's pursuit of a musical career began when he first picked up an electric guitar while in high school, eventually forming the extreme metal band Antagony.
From there he went on to California State University, East Bay, earning a bachelor's degree in music in 2007. Since then he has been winning recognition in the Bay Area for his work as a musician and composer. He's also been busy the past year – his third as a college-level music teacher – for his alma mater as well as for Gavilan College in Gilroy.
His teaching has been recognized. The San Francisco Classical Voice, a music news Web site, honored Vasallo as its "Music Educator of the Year" first runner-up after he received 27 nominations for the honor from students, CSUEB alumni and fellow faculty members.
"He (Vasallo) was the most-nominated teacher in the SFCV Music Educator Award competition," wrote Mark MacNamara, a journalist for several news outlets who reports on the music industry for the SFCV Web site. "Mr. Vasallo has taken on the incredibly challenging job of connecting inexperienced college students to a larger musical tradition, unlocking their own creativity in the process."
Vasallo, completing his first year as lecturer of music for his alma mater and as an adjunct professor for Gavilan, has been teaching courses in music theory, orchestration, music history, songwriting and electronic music – while continuing to perform for Oblivion and write music as artistic director for Composers Inc.
The Dublin resident, whose wife Denise recently gave birth to their first child, credits his success as a teacher to "my students' trust in me because I am still actively involved in current popular music," Vasallo said.
Vasallo, who earned his master's in 2009 and doctorate in 2011 – both in music from UC Santa Cruz – also is an award-winning composer. In the past few years he's won accolades from the 2012 H.M. Gorecki International Composers Competition and the 2011 Indiana State University CMF Music Now.
His work as a creator has been more than favorably described in recent reviews.
"Nick Vasallo is a composer on a mission and one possessed of a distinctive voice," said Michael Quinn of The Classical Review, while Froncois Couture of Monsieur Delire described the CSUEB alumnus' "strokes of genius that blend the density of heavy metal with the harmonics of gamelan."
One of his compositions was performed in Cal State East Bay's recital hall during the annual Glenn Glasow Fellowship Concert May 23. In April, the Kronos String Quartet and San Francisco Symphony premiered his composition, "Only One Survives." A video of that performance can be viewed at Youtube.
Due to his teaching success at CSUEB and Gavilan, Vasallo has been offered, and accepted, a tenure track faculty position to teach music at Cal Poly Pomona. He begins that assignment this fall.
Further information about Nick Vasallo is available at Nick Vasallo and YouTube Nickvasallo.
BZ