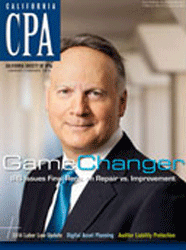 CSUEB Professor Gary McBride on the cover of the January/February edition of California CPA magazine.
Gary McBride, Cal State East Bay professor of accounting, has written the cover article for the January/February edition of California CPA magazine, published by the California Society of Certified Public Accountants. With the headline "Game Changer," McBride advises accountants about various regulation changes made recently by the Internal Revenue Service.
In the article, McBride highlighted challenges and opportunities presented by the updated regulations.
"The IRS…overhauled the standards for determining if an expenditure constitutes a repair that can be expensed or an improvement that must be capitalized," McBride wrote to catch the eye of CPAs who no doubt are busy preparing tax filings for their clients with the start of the new year.
The CSUEB professor describes problems (the repair and maintenance line on tax returns that have been "favorite targets" of the IRS) and solutions, while providing comprehensive details for which CPAs should be aware.
In addition to his professorship, McBride is a CPA and attorney. Previously he worked for the IRS as a revenue agent, special agent and technical advisor in the IRS national office.
Read McBride's article in California CPA magazine.
-- Barry Zepel