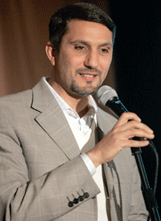 Hatem Bazian
Hatem Bazian, co-founder of Zaytuna College and a senior lecturer in the departments of Near Eastern and Ethnic studies at the University of California, Berkeley, will be speaking about the future of the Middle East today (Wednesday, Jan. 15) from 4 to 5 p.m. at the Diversity Center in the New University Union, on the Hayward Campus of Cal State East Bay. 
Admission is free and the public is invited.
Bazian is widely regarded as an organic intellectual and social activist who has played significant roles in civil rights movements locally, nationally and internationally.