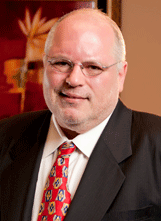 Howard Hyman
Howard Hyman, executive vice president of Fremont Bank and Cal State East Bay's Distinguished Alumnus for 2012, will be guest speaker at an event sponsored by the Psychology and Engineering departments from 2 to 3 p.m. on Thursday, Jan. 23, on the Hayward Campus.
Hyman, who graduated in 1979 with a degree in psychology (minor in business administration), will be speaking on the topic of "From Psychology Degree to Business Leadership" in VBT 124. Admission is free and the university community is invited.
Hyman has served as Fremont Bank's executive vice president since 1980. In addition to serving as a trustee of the educational foundation, Hyman is director of Fremont Bank Foundation and sits on the board of the Stanford Cancer Council. He also has served on the board of directors for the Fremont Symphony and Valley Montessori School.
Read more about Howard Hyman from the Winter 2013 issue of Cal State East Bay Magazine
-- Barry Zepel