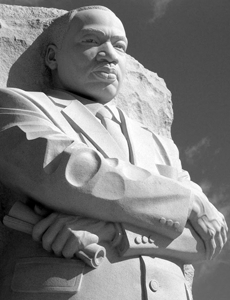 The Stone of Hope, embodied by the image of Martin Luther King, Jr., emerging from the granite reflects the steadfast resolve of an entire generation to achieve a fair and honest society.
Congratulations on the success of the Jan. 14 "We Are the Dream" Martin Luther King Jr. Breakfast held in the New University Union. 
More than 230 students, faculty, staff and members of the members of the community attended the event sponsored by Cal State East Bay's Office of the President, Office of the Provost, and Office of University Diversity.
Presentations included remarks by CSUEB President Leroy M. Morishita; Stan Hebert, acting vice president of Student Affairs; and Dianne Rush Woods, university diversity officer. Student performers led by Darryl Jones, associate professor of music, sang "Lift Every Voice and Sing." Other students individually spoke on how they "are the dream."
"It was really quite lovely," Woods said. "The student performers (from SSOS, GANAS and EOP programs) were wonderful."
Woods also praised the work of the breakfast program's organizers, who included Tamra Donnelly, Linda Dobb, Sheryl Boykins, Katie Brown, and Randy Saffold. Saffold prepared a complete Powerpoint presentation that included much of the history about Rev. King and the civil rights movment in the United States.