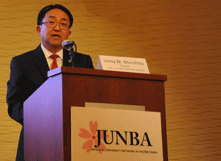 CSUEB President Leroy M. Morishita as he addressed members of JUNBA on Jan. 9 in Burlingame.
Cal State East Bay President Leroy M. Morishita, a noted expert on the higher education accreditation process in the United States, recently addressed a meeting of JUNBA (Japanese University Network in the Bay Area) to discuss the process. Japan does not currently have an accreditation system for its universities and colleges.
JUNBA is an organization made up of Japanese universities that have offices in the Bay Area. They include Fukuoka Institute of Technology, J.F. Oberlin University, Kagoshima University, Kyushu University, Osaka University, Tohoku University, Tokyo Institute of Technology, Tokyo University of Science, Yokohama City University and Waseda University.
During his appearance at the Jan. 9 JUNBA conference in Burlingame, Morishita spoke on many topics, including Cal State East Bay and its role in the CSU system; the history of accreditation in the United States; the influence of the U.S. Serviceman's Readjustment Act of 1944; and the landmark Higher Education Act of 1965.
Much of his presentation focused on accreditation in America, including its rise, function and the process, including the regional agencies that provide it. He also offered his perspective on the changing landscape of this country's higher education in the 21st century.
"Accreditation in higher education in the U.S. is over 150 years old, and was established by schools, colleges and universities to create common standards ensuring quality across institutions," Morishita noted in his comments to the JUNBA membership. "Importantly, accreditation is a voluntary and peer-reviewed process that has gone through many adaptations to accommodate a diverse array of institutions with varying missions across the spectrum of higher education in the U.S."
The mission of JUNBA is to assist the enhancement of education and research activities and the creation of new businesses for Japanese universities, helping their internationalization movements and the training of their students and personnel, and promoting a development of academia-industry relationships between Japan and the United States.
-- Barry Zepel