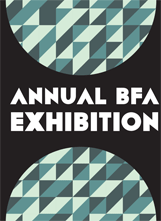 BFA logo
The creative works of 15 Cal State East Bay Bachelor of Fine Arts students will be on display at CSUEB's University Art Gallery from Jan. 14 through Feb. 13. The exhibition's opening reception is Tuesday, Jan. 14 from 5 to 7 p.m. in the gallery.
The gallery is open Monday through Thursday, 12 to 4 p.m., during the remainder of the exhibition. Admission to the gallery on all days, including the opening reception, is free and the public is invited.
"The annual BFA exhibition highlights the work of art students who are in an intensive program designed for those who wish to pursue graduate studies in fine art," said Philip Ringler, gallery curator who is directing the exhibit.
The University Art Gallery is located adjacent to room 108 on the first floor of the Arts and Education Building, on CSUEB's Hayward Campus, 25800 Carlos Bee Boulevard.
Further information about the University Art Gallery is available online at University Art Gallery or by sending an email to Artgallery@csueastbay.edu.
-- Barry Zepel