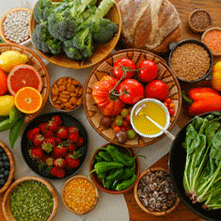 vegetables
Are you seeking to lose weight, maintain your weight or just improve your overall health and well-being?  
Cal State East Bay faculty and staff members are invited to hear about an upcoming 10-week nutrition class series led by Dr. Ulka Agarwal and learn how "power foods" promote health and fight diseases such as obesity, diabetes, high blood pressure and high cholesterol. The information session that will describe the program will be held Tuesday, Jan. 28 from noon to 1 p.m. in LI2250 (across the courtyard from the entrance to the University Library).
Classes will include nutrition education and cooking demonstrations. Dr. Agarwal has developed these classes based on her clinical research demonstrating the effectiveness of power foods for weight loss and well-being.
To register, go to:
register
-- Barry Zepel